We start our analysis of the national teams for UEFA EURO 2020 with the analysis of the cheap players of Group A in Sorare.
Further reading: Cheap players in Sorare in Group B of UEFA EURO 2020
Further reading: Cheap players in Sorare in Group C of UEFA EURO 2020
Further reading: Cheap players in Sorare in Group D of UEFA EURO 2020
Further reading: Cheap players in Sorare in Group E of UEFA EURO 2020
Further reading: Cheap players in Sorare in Group F of UEFA EURO 2020
Turkey
The Turkish selection will play the opening game against Italy on June 11. On paper, the team led by Senol Günes has qualities, especially since it did not lose in the qualifiers as the French team, world champion. If the Turks hope to know a destiny as during the Euro 2008, what about the performances of the players who compose its selection?
Many Turkish players do not have cards in Sorare, restraining significantly the possibilities in this selection. Especially since those who do have cards in Sorare, quickly become expensive.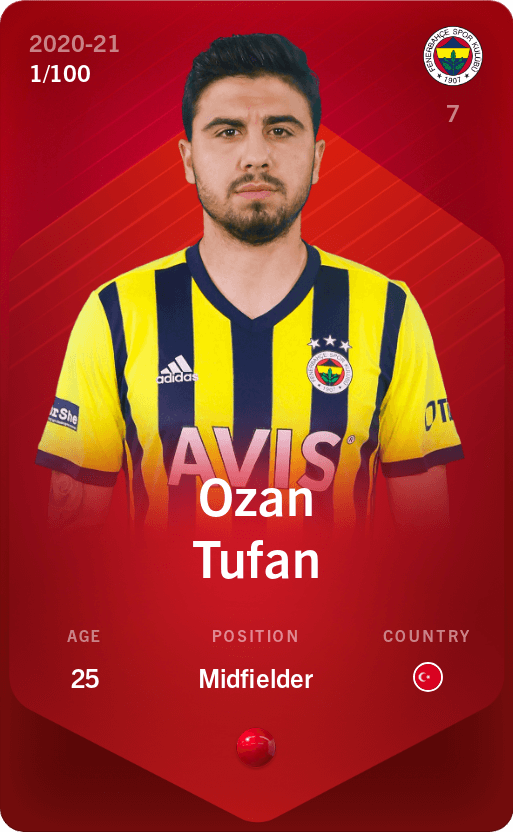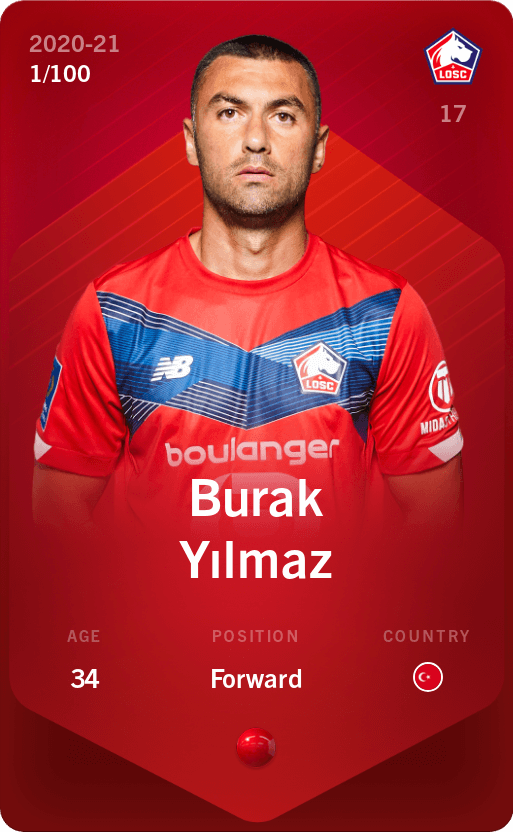 Ozan Tufan
Ozan Tufan is the ultimate consistent player. The games go by and his scores remain invariably stable, around his average score. The national performances will not necessarily be the same as with his club, but Turkey, led by a Burak Yilmaz on fire, can reasonably see further in the competition, especially since it will face the 2nd of Group B, an opponent on paper accessible (Russia or Denmark?).
Market value: 0.134 ETH
Burak Yilmaz
Burak Yilmaz is the gunman of this Turkish selection with Hakan Çalhanoğlu in midfield. Amazing with Lille, with whom he stole the French championship title from Paris Saint Germain, Burak Yilmaz is currently on fire, and there is no reason for it to stop! Relatively old (35 years), he is not very expensive considering his performances on Sorare due to his age, and can, if you can afford him, allow you to drop the jackpot thanks to his performances.
Market value : 0.150 ETH
If you can afford to go over the 0.2 ETH mark, look at Hakan Çalhanoğlu (0.220 ETH), the key player in the Turkish team.
Italy
Ultra-favorite of its group, Italy will have the privilege as host country to play 3 of its games at home, in Rome. If the Italian clubs are rather well represented on Sorare, there are still a number of them missing, considerably reducing the possibilities. And the few players that do exist are well above the 0.2 ETH threshold we set at the beginning of the article.
Bryan Cristante
However, one player caught my attention: Bryan Cristante.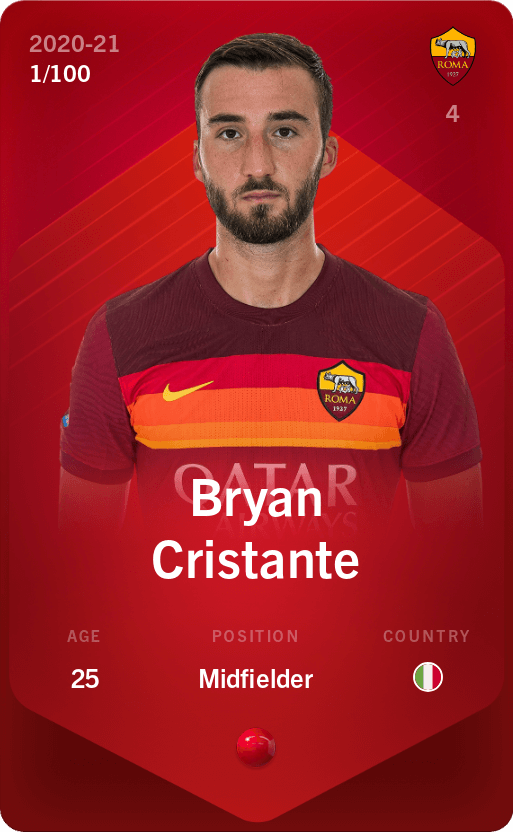 With Verratti not at the top of his physical abilities, Bryan Cristante should find some playing time during this Euro in midfield. Unlike most Italian players, he has the merit of not being overpriced. Moreover, another advantage is that he is a starter with his club and will continue to be helpful after the Euro.
Market value : 0.07 ETH (even if it was sold for around 0.1 ETH in the last auctions)
Wales
Wales is not the most represented selection on Sorare. In fact, there are only 3 of them, including Aaron Ramsey and the young Rabbi Matondo.
Neither of them is certain to be part of the Wales starting eleven, so I decide to not recommending either of them for Wales.
Switzerland
Besides goalkeepers, there are only 2 players represented on Sorare: Xherdan Shaqiri and Haris Seferović.
Xherdan Shaqiri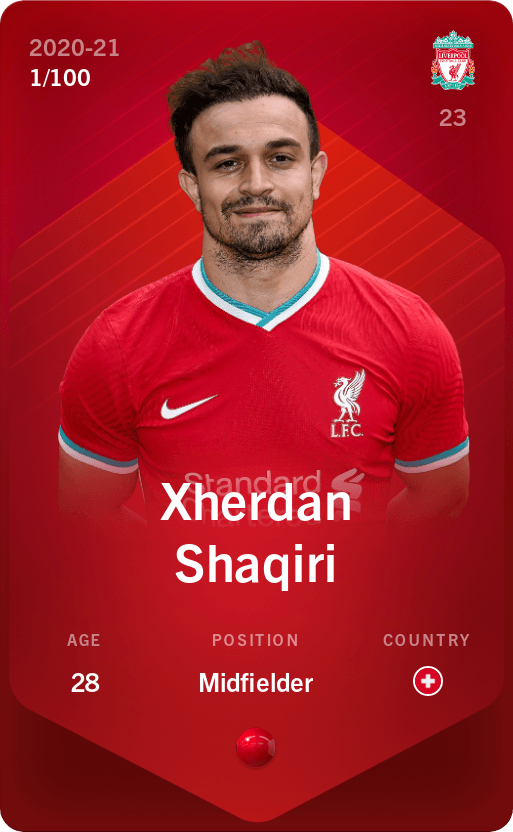 Xherdan Shaqiri is an enigma. If there is no doubt that the boy has technical qualities, he has never managed to become a starting man in Liverpool. However, he remains an undisputed starter for its national team, and this Euro should be no exception. Without certainties with his club, I do not see him performing, because of his low playing time for a year. If his average price is still relatively high considering his performances (0.075 ETH), it is probably possible to get him back around 0.05 or 0.06 ETH by the beginning of the Euro. He will be useful during the Euro, but unless he leaves Liverpool for an intermediate club, the investment will probably not go beyond that.
Haris Seferović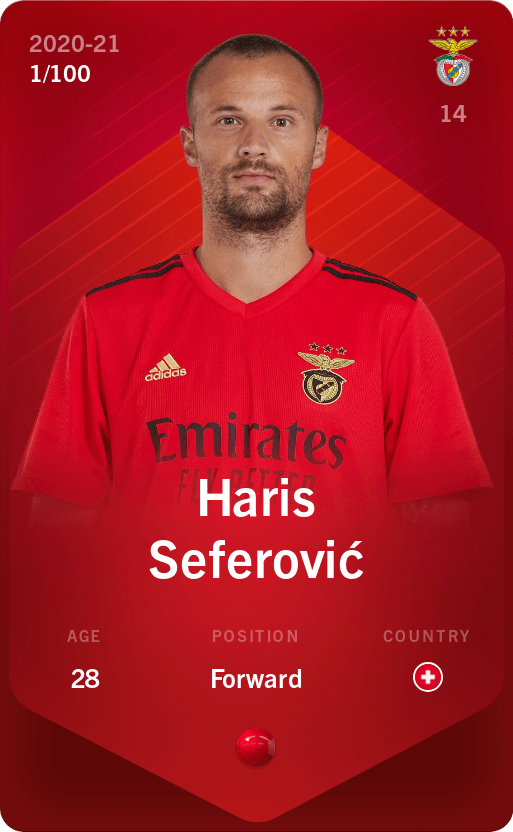 Haris Seferović, on the other hand, brings much more assurance. Second top scorer with 22 goals in the Portuguese championship behind Pedro Gonçalves (23 goals), he is also relatively accessible. He is the main striker of this Swiss selection and a relatively interesting investment when you compare his price with Pedro Gonçalves's price (higher than 1 ETH).
Market value : 0.149 ETH
Switzerland finishes the analysis of Group A, where cheap players for the Euro are not numerous.
Let's go to Group B!
See you soon,